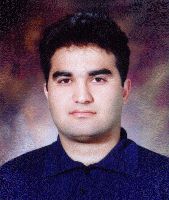 I am Paymaan Jafari Taayemeh, A Computer Science/Hardware Engineer from Azad University of Tehran/South.
I was born at the great capital of Persia (Iran); Tehran in 1350 Solar-Hejri base date, equal to 1971 A.D.
I have been working with computers, for a long time, developing software and also using it. In a word, I like computers that much.
When I was 15, I was working on simple electronic circuits, but after the first home computers appeard, I changed my attitude toward them. The first computer I owned was a lovely Commodore C64, That changed my whole way of study.
Working with my C64, I learned first to write BASIC V2.0 and then I directly attacked my computer using 6510 Assembly language, I found the programming really interesting and to my taste. I can't forget how surprised I was when watching great C64 Demo programms and games.
I had written some demos and programms on the 64, and suddenly the greatest machine of the world appeared in the market, the Amiga.
After 2 years I finished my militari service and tried to learn Amiga Assembly, I got RKRM manuals (So hard! directly from the US) and started to write a commercial laboratory control sytem. It consisted of 6000+ lines of pure 68000 assembly, with no include usage and in just one segment -- Sorry, that was my first experience :) --
The story doesn't end here, I write that code in 1 month and just 2 days after finishing the Controller Window (TM) , I headed to the hospital! I had an operatiton there, and treatment lasted about 2 months. What do you name this type of programming? I call it Extreme Programming!
After that I wrote some other special-purpose programs, Like a medical DBase (Persian) called Paziresh (TM) in cooperation with my friend; Majid Heidari. Then another one to convert and print some types of Gamma Camera Imaging system that has medical usage, from it's own format to ILBM, making users enable to print on normal paper, and also providing image processing capabilities. This program was the result of my work, Majid, and his brother Ahmad-Reza Heidari. We named the program Parto-Negaar (TM)
After writing that programm I went to university for a B.Sc in Computer Science/Hardware, And I learned how to write C, in a classic way. I have worked with Unix systems and was forced also to program PCs, and learned more about Hardware. All my lectures and projects in the university are done using an Amiga, So I showed our lecturers and other students how powerfull an Amiga is.
I like to help Amiga community, to rise again, to be again in an absolutly better situation than those time-wasting Wintels! and I will do anything I can to reach such a goal.
My latest Amiga project which I have put more than 3 years, is AmOCR, an OCR program with MUI interface for Classic and PPC Amigas. It has been such a difficult project.
notice: The mentioned project was never finished and it is left because of not enough support from community, OCT 2000, Paymaan Jafari .
In recent years, I have been much more involved in computer technology, web design, and developement, and my latest job is as Pooyesh.com Senior IT Manager. I am always seeking telecommuting jobs in web design and ecommerce, so I will be glad if you spread the word about me.